On-line marketing
Product Support
For individual product support please see the Edis Product Support pages on this Wiki which include product details, uses and recommendations for selling products together or "bundled". See also separate Web pages for each product or group of products here
EdisAV Website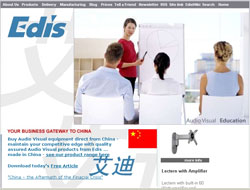 Distributors, installers and resellers
As a distributor, reseller or installer of Edis products you will receive active marketing support from our market research and on-line product promotion activities. If you are a Distributor, installer or reseller and would like to be kept up to date with market news, articles and product news please add your contact details here to subscribe to Edis e-news

We also offer Webdesign and e-Marketing as a standalone service please see our dedicated website for more details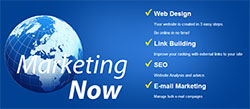 Marketing-Now.pro
Education End Users
If you are a school, college or university we have a separate e-news service for the education sector with news more suited to education, teachers and support staff. Please add your contact details here if you would like to subscribe to our Education e-news

We operate direct e-mail marketing, RSS feeds and related on-line promotions for Edis products. The direct marketing database supporting these activities includes distributors, resellers, installers and end users in each of our target territories with nearly 100,000 (and growing) qualified email contacts including many schools and universities.
We actively promote Edis products to end users by direct mail and advertising. identifying the resellers that they can buy from
We target resellers and installers to promote the distributors of our products.
Our market research specifically concentrates on markets for new distributors as they come on stream with our products.
On-going promotion continues in mature markets where we constantly update our database information to drive new customers to you
We attend Exhibitions around the World to promote Edis products, meet new distributors and assist exising distributors See Edis Audio Visual Wiki:Current events for the exhibitions we will be attending this year
Active marketing has produced excellent results and massive growth for us and our distributors in the UK and Europe over the past few years where Edis products are now installed in more than 250,000 classrooms.
We only sell through distributors but actively support our products to ensure the success of all those involved in our supply and delivery chain
Supplier Wall
Join our Supplier Wall - we will add your logo and a link to your website so that buyers can find you with a direct link from our main website.
Product Media

Datasheets, user manuals, videos, hi-res photographs, publicity copy, display stands etc are all available to support Edis products. We also have media design services, display system and packaging design services for products to support branding activities. Let us know your needs - order your Free Banner Stand here... great for show rooms, meeting room backdrops and exhibitions
On-line Hi-Res Image Gallery
Please request a login ID and password for access to our Hi-Res image gallery where you can download images for catalogues and websites etc apply here for a login ID and password if you don't already have one.
Exhibitions

We attend many of the major Audio Visual Exhibitions around the World to meet both new and familiar faces
Exhibitions and shows that we will be attending this year are listed with dates and contact information in Edis Audio Visual Wiki:Current events. We hope to have the chance to meet you at one or more of these.
Feedback
We welcome feedback to help us improve our service and support you better. Please use this link to send your feedback and/or add you comments to the discussion pages of this Wiki