---
Latest revision as of 07:59, 20 May 2010
Chinese New Year (Xin Nian) officially lasts only a few days, but the New Year season lasts from the middle of the old years' last month to the middle of the first month in the new Lunar year. Many factories stagger the holiday period to assist workers to get home - something like 200 Million workers return home during this period, celebrations in the villages are often at different times too. The time for return to work often depends on the state of the factory order book. So New Year is something of a variable feast!
In the Chinese system of reckoning time, years are named in cycles of sixty years. The name of the year repeats every sixty years, therefore... 2010 is the 11th year in the 60 year cycle and is called gengyin. It is the year 4707… year of the Tiger.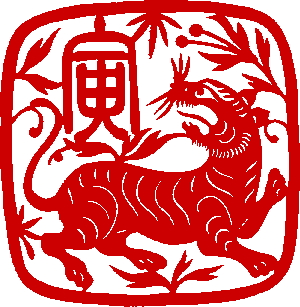 To prepare for the New Year, people give their houses a really thorough cleaning to sweep away misfortune or bad luck and make room for incoming good fortune.
Error creating thumbnail: Unable to save thumbnail to destination
Doors and windows are often painted and decorated with paper cutouts depicting happiness, wealth and longevity. Characters on red paper are placed upside down on doors, because the Chinese word for "upside down" – "dao" – is like the word for "arrive", so, if the character for "spring" is put up upside down, that means that 'spring is arriving". The same practice applies to "good fortune" and other characters.
New Year is mostly a time for family gatherings and visits. New clothes are worn and the lucky colour red is seen everywhere.
Error creating thumbnail: Unable to save thumbnail to destination
Among the foods that are eaten are jiaozi – dumplings boiled in water, literally meaning "sleep together - have sons". Fish is eaten as well as the Chinese word for "fish" sounds the same as that for "abundance".... seaweed called fat choi, a word sounding like "prosperity".... and Noodles symbolize a long life. The Cantonese spoken version sounds like "Gong Hey Fat Choi"
On New Year's Eve Chinese peope leave all the lights on in the house all night(well at least one light). It's supposed to be very good luck – particularly for the electricity company.
In the morning, and the days following, children (unmarried adults too) and old folks get "hong bao" which are red envelopes with some new money inside - usually lucky values of 99 or 999. They may traditionally say Hong Bao Na Lai? "Where's the red envelope?" until you offer one.
People also visit their neighbors to greet each other and give oranges as a token of good luck and good fortune.... as well as having orange trees at home and outside businesses.... and setting off fireworks and lots of firecrackers.
Interestingly the use of firecrackers on Chinese New Years Eve is supposed to be connected to a certain Li Tien. He had a neighbour named Chung Sou who frequently fell ill. He was believed to have been possessed by the evil spirits of the hills. Li Tien suggested detonating bamboo stems suspended from dozens of poles. So on New Year's eve, these stems were burnt, the scorching causing the bamboo stems to explode with a loud noise, scaring away the evils spirits. The creation of a din by burning bamboo stems or the beating of drums and now setting off modern fireworks and particularly firecrackers have become a ritual observed every Chinese New Year and forms part of most other Chinese festivals too to frighten away evils spirits.
So, Gong Xi Fa Cai - Congratulations - Make money! Shenti Jian Kang - Good Health and Xian Nian Hao or Xin Nian Kuai Le - HAPPY NEW YEAR!